Delivery
1. Customer information is stored in the system and order history can be viewed and their last order can be used to take the order. This screen can not be skipped and we need a 1o digit phone number to go to the next screen. Enter the phone number and click on the Green Tick button to go to the Address option.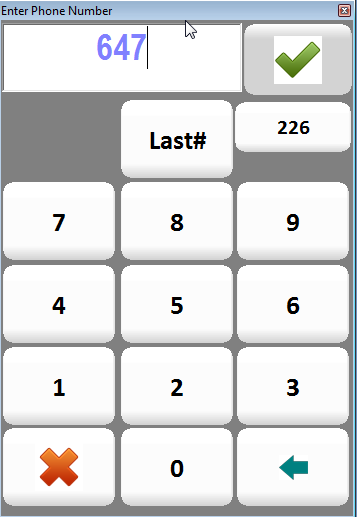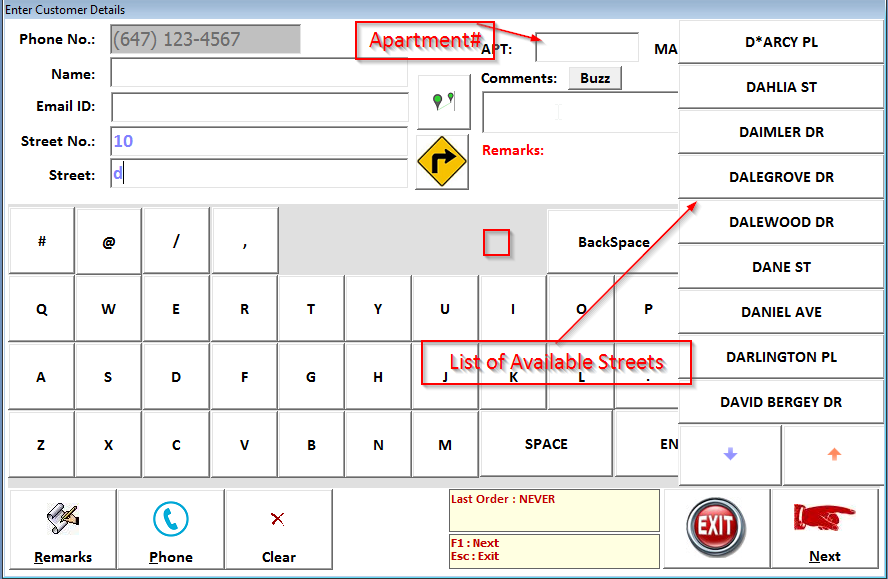 Enter Customer Phone number in Phone

It will show the Area Code mentioned in "Administration – System Parameters"

This can be erased by using BackSpace key or clicking on "BS"

Enter Phone and Click on

to proceed to Address Details

If phone number belongs to an existing customer, system will show you the address details and the information about the last orders.

Last Order information contains the following:

Last Order Date

Total Order Amount (for All orders till date)

Number of orders till date

To view/select the streets, start typing Street Name in "Street" and system will show the related streets automatically. Click on the street name on the right to select street. If a specific street has an extra charges setup in "Streets / Maps " system will display "Extra charges : x.xx" so that customer can be notified while taking order. The same charges will be added into the delivery fee at the end of the order. Please see "

Streets / Map Locations

" to set the charges.
You can type Map information e.g. "L-1" in "Map" and it will be saved with the street and next time it will be displayed automatically when you select the same street.

Customer remarks can be entered by Clicking on "Remarks". Remarks will be saved to an existing customer. E.g. if you want to store any remarks" . These remarks will not be printed on Receipt.

Enter any address related information in Comments e.g. Entry from Back etc. This will be printed on the receipt.

Map Directions to the Delivery Address can be viewed by clicking on

. It will open Google/Bing Maps based on the configuration.

Click on "Buzz" to enter the Buzzer Number for Apartment.
Created with the Personal Edition of HelpNDoc: Full-featured multi-format Help generator